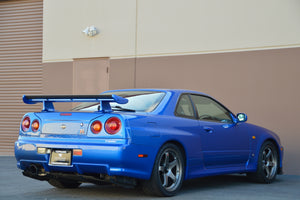 How many R34 Nissan Skyline GT-R were made?
The R34 GT-R version of the Nissan Skyline GT-R was produced from 1999 to 2002. 
There was a total of 11578 R34 GT-R made 1999-2002 according to GT-R Registry.
Of those 11,578 R34 GT-R made:
20 of those cars were converted into Z-Tunes (19 known Z-Tune R34 GT-R)
38 Vspec N1
18 Vspec II N1
366 Mspec 
718 Vspec II Nur
285 M Spec Nur legal to import to the US under Show or Display. 
347 Total Midnight Purple II R34 GT-R
68 EV1 Lightning Yellow
122 AR2- Active Red (Fastest color by far)
Of those 347 cars 282 of them were Vspec, which are eligible to import to the US under the Show or Display regulations
199 of them were Midnight Purple III
How to Buy and Store an R34 GT-R in Japan until 2024 (https://www.importavehicle.com/blog/how-to-buy-and-store-a-r34-nissan-skyline-gt-r-in-japan)
Toprank International Vehicle Importers specializes in importing and selling JDM (Japanese domestic market) cars. From Nissan Skylines to Toyota Chasers, vehicles over 25 years old are legal to import. In addition to JDM cars, we can also import cars from other countries, Show or Display vehicles, and race cars.
---